5/14/21
Updates on Updates on Updates to the 2021 Run to Exile!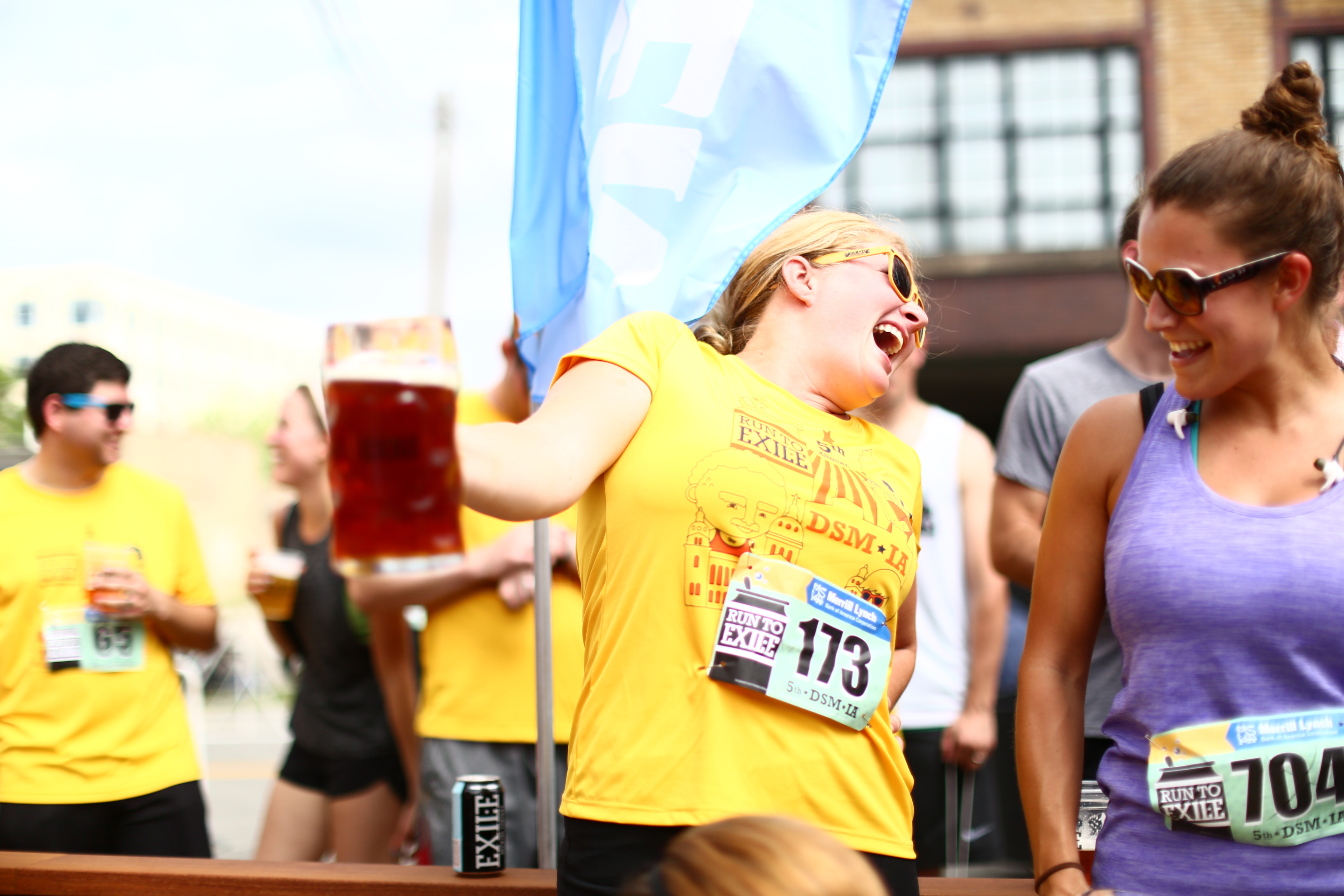 With restrictions lifitng throughout the country, in our great state and the city of Des Moines, plus the incredible efforts of the scientific community to provide Americans with a vaccine, we feel confident to move forward with a mostly normal 2021 Run to Exile!
First things first, **WE ARE BACK TO 5K AND 10K DISTANCES FOR THE 2021 RUN TO EXILE!**
**WE WILL HAVE STAGGERED STARTS (AS OPPOSED TO A MASS START AS IN PREVIOUS YEARS) TO ACCOMMODATE FOR INCREASED SPACING AT THE START.**
10K runners will start at 8:45am
5K runners will start at 8:56am 
Currently, all runners that were previously registered for the 4 mile distance are registered for the 5K. If you would like to transfer to the 10K, please login to your RunSignUp profile, find the Run to Exile in your list registrations, and select to change your event. 

If you haven't looked at your registration since you deferred last year, you can claim it here: https://runsignup.com/Race/FindARunner/?raceId=90070
Search your name, click on "Is this you" and follow the directions! Once you've claimed the registration, you'll be able to transfer between distances as needed! Just click on "My Registration" at the bottom of the page.
**We will have a post race party!!**
THERE WILL BE PLENTY OF SPACE TO GATHER BEFORE AND AFTER THE RACE AND WE APPRECIATE ALL PARTICIPANTS RESPECTING SOCIAL DISTANCING CONCERNS!
YOU WILL HAVE THE OPTION TO ENJOY YOUR POST-RACE BEER AT EXILE, OR TAKE IT HOME TO ENJOY ON YOUR TIME! WE WILL ALSO BRING BACK THE STEIN HOLDING CONTEST FOR OUR POST-RACE FESTIVITIES. THIS WILL BE MOVED TO THE MORE SPACIOUS NORTH PARKING LOT AT EXILE!
11/17/20
You've Nearly Made It to the END of 2020!
Needless to say, it's been a year! Don't worry though, you've nearly reached the end with less than a month and a half to go. We have some great apolitical news for you...the 2021 Run to Exile is scheduled for June 12, 2021! We're excited to be back for YEAR NINE! And in even better news...
Some Details, Because We're Still Not Out of the Woods
We're still going to run a socially distanced event. If things change by the beginning of next summer where we can go back to our standard event, we'll call the audible if it's appropriate!
We will have packet pickup for multiple days before race day, but no race day packet pickup or registration
We will have separate start and finish lines, with starts happening in waves, every 30 minutes
Only 10 people will be allowed into the start chute at one time, each person starting 10 seconds apart
We will only have a single loop 4-mile distance to minimize bunching and passing on the course
We will not have a water station on the course
We will not host a post-race party, instead asking runners to share their home celebrations with a take-home beer
Looking Out for the Runners and the Run
With our public health reality changing daily, nobody knows what the summer of 2021 will look like. We don't have a crystal ball, but we want to do everything in our power to host a safe, live event where runners can feel good about getting outside, getting some exercise, and getting some competition under your belts. If we can't do this, we don't want to leave you high and dry and we also want to ensure that the event can survive.

When you register, you'll have the option to purchase "registration insurance" that will cover all of us in the event that we can't host a live race. (note: cancellation due to weather is not covered) It is not required, but it's provided to create some peace of mind. It helps us partially cover our expenses if we need to give you a refund because we are not running in person. If you purchase this insurance, you'll be refunded your entire registration fee if we do not have a live event, not including the $10 insurance charge.

This does not nullify our existing "no refund" policy. If you can't participate in the event for personal reasons, the registration insurance WILL NOT apply.
We Can't Wait to Run Again!
We know that priorities are not with running events at the moment, but we're looking forward to warmer weather, a healthier community, and maybe a cold beer or three down the road. If you're up for joining us next June for Des Moines' unofficial start to summer, we'll see you at the start line at Exile. Stay healthy, stay safe, and have a great Thanksgiving!


8/27/20
You've got Run to Exile!
It's been more than four months since our last update. Holy moly. That's a long time, with a lot of changes, a lot of cancelations, and often times more questions than answers. Our sentiments of community solidarity have not changed. We still know how important it is to wear a mask. We know that you should continue to stay healthy, get outside in a safe way, and exercise!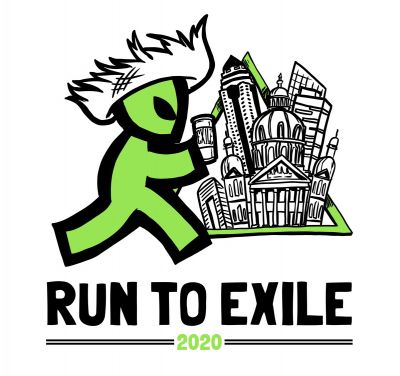 The Run to Exile will go on as rescheduled on 9/19/20. You will get a proper, in-person, timed event with a result that you'll brag about...or one that will encourage you to train better! Whatever, whatever.
However, with the continuing concerns surrounding the CoVID-19 pandemic, we are implementing several changes to keep all runners, volunteers, and staff safe.
PLEASE READ THE ENTIRE COVID RACE PLAN SO YOU KNOW WHERE TO BE, WHEN TO BE, HOW TO BE, AND STILL ENJOY YOUR TIME DURING THIS MODIFIED RUN TO EXILE. 
Run to Exile will now be a single distance 4 Mile race, starting and finishing at Exile Brewing Co. Bonus for 5K runners, and a reprieve for 10Kers who may have under prepared. You're welcome, either way.
Face coverings are required when in the Run to Exile Bubble. This means in the gathering area before your start as well as in the start chute, inside the restaurant, or when interacting with staff or volunteers. You do not need to wear a mask while you run. 
The entire event will be divided into waves starting every 30 minutes. The first wave is at 9am. If you are already registered, PLEASE VISIT THIS LINK: https://runsignup.com/Race/FindARunner/?raceId=90070

Find your name in the list of participants, click on "is this you," and follow the instructions to claim your registration
Once you receive the email and claim your registration, find the link for "Questions" at the bottom of the page containing your registration info. PLEASE SELECT THE WAVE IN WHICH YOU'D LIKE TO START BY EDITING YOUR REGISTRATION DETAILS. THIS IS IMPORTANT. YOU WILL BE OTHERWISE RANDOMLY ASSIGNED TO A WAVE.

10 people will gather in the start chute with 8 feet between each person, at least. Each person will start 10 seconds apart. Once all 10 people have started, there will be a one minute break during which the next 10 runners will load into the start chute and start their race the same way. 
There will be no water stations on course, to avoid additional contact with volunteers. Please bring your own bottles to run with, if necessary. 
The finish line will be separate from the start area. Once you finish, you will be given water and snacks and asked to exit the area. Only those with reservations at Exile will be allowed to return during the event. 
Awards will be mailed out to the top three overall ladies and gents courtesy of Heartland Soles
We ask that runners do not invite spectators, unless the runner is under 18. The finish line will be broadcast online through Facebook Live and you'll be able to track runners using the RaceJoy app. 
We're excited to see what you runners think of the upgraded Asics tech shirts! If you would like to know how they fit, stop at Heartland Soles to try on a size or two. You can edit your size the same way as you did your wave selection, if necessary. 
Though it goes without saying, there is no obligation to particpate in this event if you do not feel comfortable being in groups, small though they may be. All runners can defer their registration until 9/12 for the 2021 event. Just
send us an email
. If you've already sent an email asking to defer, consider it done! If you'd still like your schwag, but keep your distance, you will have the option to run virtually and record your result starting the day after the event. 
We can't wait to see many familiar faces, at a distance and wearing masks, when we're back at Exile in less than a month!
4/8/20 
Run to Exile Faithful!
Off the top, we hope you are all staying healthy and as positive as possible in this quite unprecedented time. For those that have been affected in any way by the CoVID-19 public health crisis, we're with you. If there's something within our capabilities that we can do to help, let us know. Send us a message through social media or email runtoexile@gmail.com.
We are all making tough decisions and accepting tough sacrifices – running related sacrifices being relatively low priority in this new reality. With that, here's one of our tough decisions: the 2020 Run to Exile is moving to September 19, 2020 to hopefully give our runners, stein holders, and beer drinkers enough time to weather the CoVID-19 storm, restore some normalcy and join us again at Exile Brewing Co for what we hope will be the best way to now start your Oktoberfest!
This is quite the change for an event that's gone strong for seven years running and we still plan to make year eight the best one yet! As a first step, we're excited to announce something that we planned last month, but was derailed by this pandemic...We'll be upgrading runners shirts to Asics technical shirts! With a new Run to Exile logo to boot! There will be more good things in the coming months as well to keep you motivated!
For the moment, registration is closed. Prices will be frozen until race day and, if you are unable to make the new race date, we will have a system in place to defer your registration to 2021. We'll be re-opening registration soon and we'll share additional info through social media and email (please check spam). If you have other questions, please email us at runtoexile@gmail.com.
We are incredibly proud of how well the people in our community have stepped up in trying times and continue to look out for each other. It won't necessarily start as a pleasant story, but we look forward to the days when we can recount this difficult time in our lives to tell a story of perseverance, community, and resurgence. Hopefully our new date can serve as good motivation throughout the summer to stay fit and healthy and get ready for a new fall celebration of running, beer, and the Greatest City in America.
Keep enjoying your socially distant runs and keep enjoying your Exile! ***

***Order for curbside pickup at exilebrewing.com!