AS ALWAYS, IF YOU HAVE ANY QUESTIONS, DO NOT HESITATE TO EMAIL RUNTOEXILE@GMAIL.COM.  PLEASE DO NOT CALL EXILE BREWING CO WITH RACE QUESTIONS. THEY'LL BE SWAMPED AS IT IS!
Parking
All participants can park at the Nationwide parking lot at 12th and Walnut. This is a quick three block jaunt from Exile Brewing Co. There will be no parking at Exile itself. Walnut St between 15th and 16th and 16th St from Locust to MLK will be closed to non-race vehicles. Please plan accordingly so you have time to park, pick up your packet if you haven't already, and be ready to start the race on time at 9:00am!
Please also remind friends and family that are coming to watch or hang out that our course goes past the Nationwide parking garage and therefore between 8:40am-9:30am, access to the parking garage will be limited.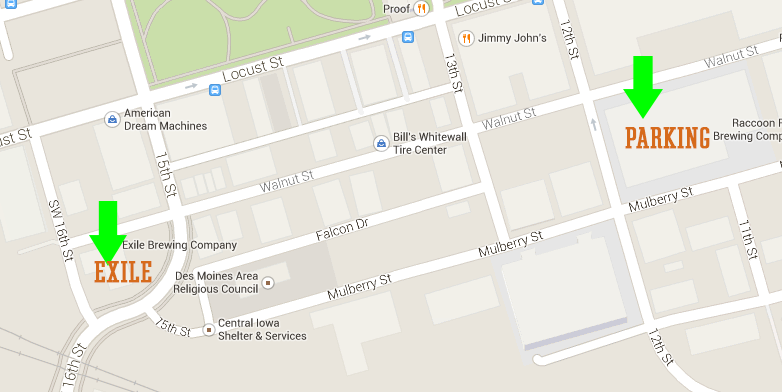 Packet Pickup
Packet pickup will be at Exile Brewing Co (1514 Walnut St, Des Moines) from 3-7pm on Friday 9/23, and race day at Exile from 7:15am-8:45am. You will receive your race bag, which is the ONLY BAG that can be used at the bag drop, T-shirt, bib number, and timing chip along with your Exile beer glass. Once we give you the glass, it's all yours. This means no butter finger insurance! We strongly encourage you to pick up your packet on Friday!
If you have a conflict, you can have a friend or family member pick up your packet for you.  To do so, please ask them to forward their registration confirmation email. 
At Exile, we will have a bag drop where you can leave any essentials that you would like once you finish. Change of clothes/shoes, towel, cell phone, ID, and money for food/beverage, are possible suggestions. Only the bags provided at packet pickup will be allowed at the bag drop.
Chip Timing
All runners will be provided a timing chip. Your timing chip will be attached to bib. You will be timed according to your chip or net time.
The bib tag timing chip cannot be folded, pinned or bent in any way for it to record your time correctly. We cannot guarantee an accurate time if your bib chip is damaged in any way. 
Safety
There are multiple aspects of safety to be aware of for Run to Exile. Watch the weather on the day of the race. If it is 85 degrees, do not wear your winter coat to run in. Drink plenty of water. 
The course is on pavement and traffic will be controlled by Des Moines Police, but please we aware of what is under your feet, ahead of you and around as you run.
BOOZE. Please be smart about drinking. We want everyone to have fun and we are not here to be anybody's parents. We completely understand that this event is centered around an awesome brewery with awesome beer and we hope everyone enjoys a few. Please do not take any alcohol with you on course. We will take it away if we see it. We highly recommend not drinking at Exile or anywhere else before you run. Save yourself until the finish, then you can indulge.
Route – 2 Hour Limit on Course
The Zoltan 5K and Ruthie 10K will both start at Exile together. The split will be SW 14th St where Ruthie will turn left toward Gray's Lake and the trail and Zoltan will continue on MLK and eventually Exile.
Remember to know the course! As a reminder, here is the Ruthie and the Zoltan. The course will be marked with these arrows. Follow them!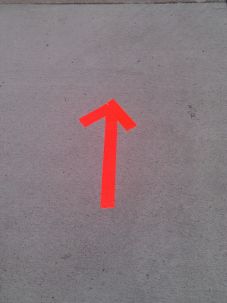 Water Stations
1. MLK/5th (Passed twice)
2. John Grubb Ln/Kruidenier Trail (Ruthie)
3. Meredith Trail @ west Gray's Lake parking
Finish Area and Party
Both courses join up on MLK. We all finish on Walnut in front of Exile. 
Did we mention there's beer? Like, a lot of it. Every runner, when finished, earns their first beer courtesy of Exile Brewing Co. You will need your ID so be sure it's either in your race bag or tattooed on your forehead. Afterwards, enjoy the company of many hundreds of your new friends, have another beer, and enjoy the STEIN HOLDING CONTEST! There are awesome Exile Brewing prizes at stake!
AS ALWAYS, IF YOU HAVE ANY QUESTIONS, DO NOT HESITATE TO EMAIL RUNTOEXILE@GMAIL.COM. IF YOU NEED US TO CALL YOU BACK, JUST INCLUDE A PHONE NUMBER IN YOUR EMAIL. PLEASE DO NOT CALL EXILE BREWING CO WITH RACE QUESTIONS. THEY'LL BE SWAMPED AS IT IS!